"Somewhere between right and wrong lies a garden surrounded by thorns, and I have met you there."
The Secret of a Heart note by Stacey Lee is an amazing read about something I've never heard of -Aromateurs and their love elixirs.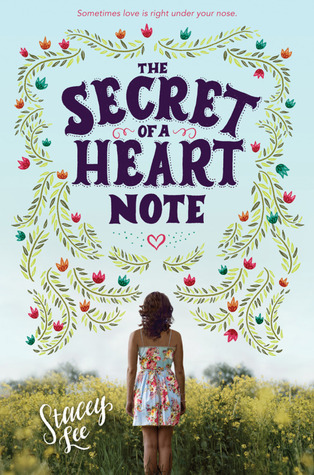 Book Blurb

An evocative novel about a teen aroma expert who uses her extrasensitive sense of smell to mix perfumes that help others fall in love while protecting her own heart at all costs

Sometimes love is right under your nose. As one of only two aromateurs left on the planet, sixteen-year-old Mimosa knows what her future holds: a lifetime of weeding, mixing love elixirs, and matchmaking—all while remaining incurably alone. For Mim, the rules are clear: falling in love would render her nose useless, taking away her one great talent. Still, Mimosa doesn't want to spend her life elbow-deep in soil and begonias. She dreams of a normal high school experience with friends, sports practices, debate club, and even a boyfriend. But when she accidentally gives an elixir to the wrong woman and has to rely on the lovesick woman's son, the school soccer star, to help fix the situation, Mim quickly begins to realize that falling in love isn't always a choice you can make.

At once hopeful, funny, and romantic, Stacey Lee's The Secret of a Heart Note is a richly evocative coming-of-age story that gives a fresh perspective on falling in love and finding one's place in the world.
My thoughts..
What if feelings and emotions had a smell? What if like thumbprint, all of us had our own scent prints?
Otherwise called as love witches, the aromateurs are experts at mixing the right kind of flowers based on scentprint of a person and concocting an elixir that will be used to spray on their love interest. If there was a spark already, this elixir will make it possible for the other person to acknowledge it and act on it.
According to her mom, Mimosa and she are the last aromateurs left on earth,  as Mim's aunt Bryony had lost her sense of smell (heightened/ hypersensitive) after kissing a guy (and falling in love). Also they are always around flower pollen, that its easy for other humans to get 'infected' if there's skin contact and they become love sick towards them.
So the catch is, they can create magic in other's lives, but can't fall in love, not at the cost of losing their 'gift'.
Mim longs for a normal teenage life, the angst and the lovesick feeling. But she needs to take care of their garden, weed, concoct and serve their customers. What happens when an elixir is given to the wrong subject and how she tries to rectify her mistake is what follows next. One important thing is, her wrong subject is the mother of her high school heartthrob who she secretly crushes on – Coach who smells like "Campfire -charred cedar, roasted hickory, fir needles".
I loved how feelings and emotions were compared to flower scents.  Like the dandelion refers to 'flirtation' and hope smells like pink hydrangea and disappointment smells like a fog. A different kind of magic and an almost star-crossed lead pair.. I loved this book and everything about it. Though i don't know about much of the flowers she has mentioned in the book, i could see the effort Stacey has put into studying each of them – color, a possible emotion to connect it with etc. Unique, refreshing and ambrosial 🙂
If only everyone were able to smell feelings and react accordingly, the world would be a better and fun place to live 🙂
My rating is 4.5/5 🙂
Publishers : Katherine Tegen Books | Available at Amazon.in