Author : Tricia Levenseller
Publisher : Feiwel & Friends, an imprint of Macmillan Publishers
Pub Date: February 2017
Source : Own copy
Get the book from Amazon.in
Book Blurb
If you want something done right . . .

When the ruthless pirate king learns of a legendary treasure map hidden on an enemy ship, his daughter, Alosa, knows there's only one pirate for the job—herself. Leaving behind her beloved ship and crew, Alosa deliberately facilitates her own kidnapping to ensure her passage on the ship, confident in her ability to overcome any obstacle. After all, who's going to suspect a seventeen-year-old girl locked in a cell? Then she meets the (surprisingly perceptive and unfairly attractive) first mate, Riden, who is charged with finding out all her secrets. Now it's down to a battle of wits and will . . . . Can Alosa find the map and escape before Riden figures out her plan?
Oh I loved this book and finished it in a SINGLE day!!! Yep, I'm excited about that because its been such a long time that I finished a book on the same day.
This is the first pirate based book I've read and it being about a female pirate is even more amazing. Alosa is such a kickass character and even though the book is a dead giveaway that its gonna be about a female protagonist, it was much more amazeballs to read it. I loved the magical elements that were infused in it (I'm not giving them away) and how they stuck well with the story and its sequel which is gonna be released next year (long wait!!).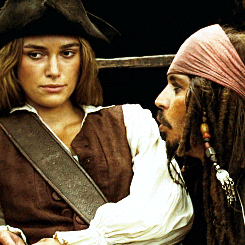 Two things that kept gnawing at me – one was the age of the characters. How can 17 year old pirates be this sassy and strong and confident. When I was 17, I didn't even know what I wanted to do with my life. The other thing is – Alosa's manipulation technique. That was kinda against the whole feministic thing that was going on, you know, showing her as all powerful, unrelenting and then bammm!!  she manipulates using sex.
But seriously, I love this book and give 4.5 stars !
If you haven't read this book, please drop everything and just go read it!..