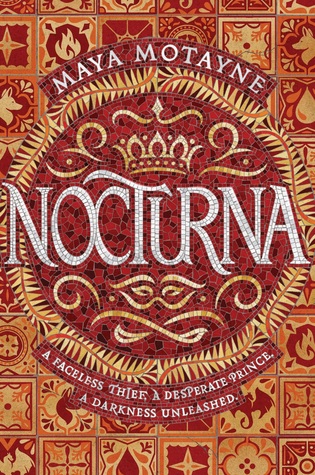 Author: Maya Motayne
Genre : Young Adult Fantasy
Source: Audiobook available from Storytel.in
Audiobook Duration: 12 hours
Released on: 07-May-2019
Publishers: Balzer + Bray
Let me warn you, its dark ! Dark Fantasy and a lot of magic – elemental and a special kinda one called propio – a magic that's unique to each person and appears to them when they really need it.
Prince Alfehr is not ready to ascend the throne – the throne that was supposedly his brother Dez's – and is hellbent in avenging his brother's death and trying to bring him back, all at the same time. Finn Voy is a badass thief, and her propio is face-shifting that helps her survive and to escape her mentor-slash-evil-adopted-father.  Luka is Alfie's cousin and his best friend, who is left with the loss of dealing with Dez and a runaway Alfie and is rightfully mad at him for leaving him.
When Alfie accidentally releases a dark magic into the world, he seeks the help of his best friend and Finn (who he meets when he is reckless and trying to get hold of forbidden magic books) Together they devise a plan – one that leaves Alfie with no other choice than to get help from the person who caused his brother's death. Only Problem – the dark magic is growing and infecting his people and said murderer is in an isolated prison bound with magic. So the plot is all about how and if they survive this evil magic thing.
So the world … is amazingly built, intricate details are shared throughout the book. The history of the Kingdom of Castallan , their elemental magic and how they were enslaved by the Englass and fought their freedom strikes a similarity with real world. And there is also the story about how the Gods created Castallan and and about Sombra, the God of Darkness who is buried because of his threat of bringing about Nocturna to the world.
The main characters – all three of them were good and I loved Luka so much!! Finn was fantastic and broken and monstrous, while Alfie was hurting and scared and conflicted. The author has hinted a romance between them but nothing happens in this book so maybe the next one and I can't wait !! But all together, this first instalment was almost perfect and fulfils all fantasy lovers expectations.
The relationship between this book and me could be described as a slow burn romance!! I initially found it really hard to get into the story because of the complex magic system, but the book wowed me over towards the end. I read other reviews when I was about to give up in the beginning and many found it similar to Shades of Magic series by VE Schwab. I'm yet to read it, so that didn't put me off.
A definite 4 stars from me!!.
Have you read this book? Let me know your thoughts on it, if you have.
You can buy the book from Amazon using my link.